Posts Tagged 'christmas with cats'
Christmas is a special time of year. Heartwarming songs, stomach warming cider, peace on earth and…well, all that crap. =)
Christmas for cats is an entirely different matter. Tinsel, sparkly lights, greenery – it's a virtual amusement park for the kittehs. But, I'm here to help you celebrate the season with your cats. No, no need to thank me, it's the least I can do. Just click on the pics to be taken to the site.
Let's start with wallpaper for our computer. 5 absolutely adorable darlings (4 of whom look like mine!) dressed for the holidays. It's a free download, and your kitties will enjoy having a peek at it while they stand between your keyboard and your monitor.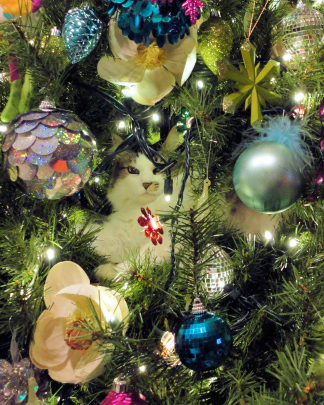 Take a peek at this absolutely hysterical photo album of how to put together a Christmas tree with two cats named Iris and Fern. Just skimming the pictures is worth a giggle.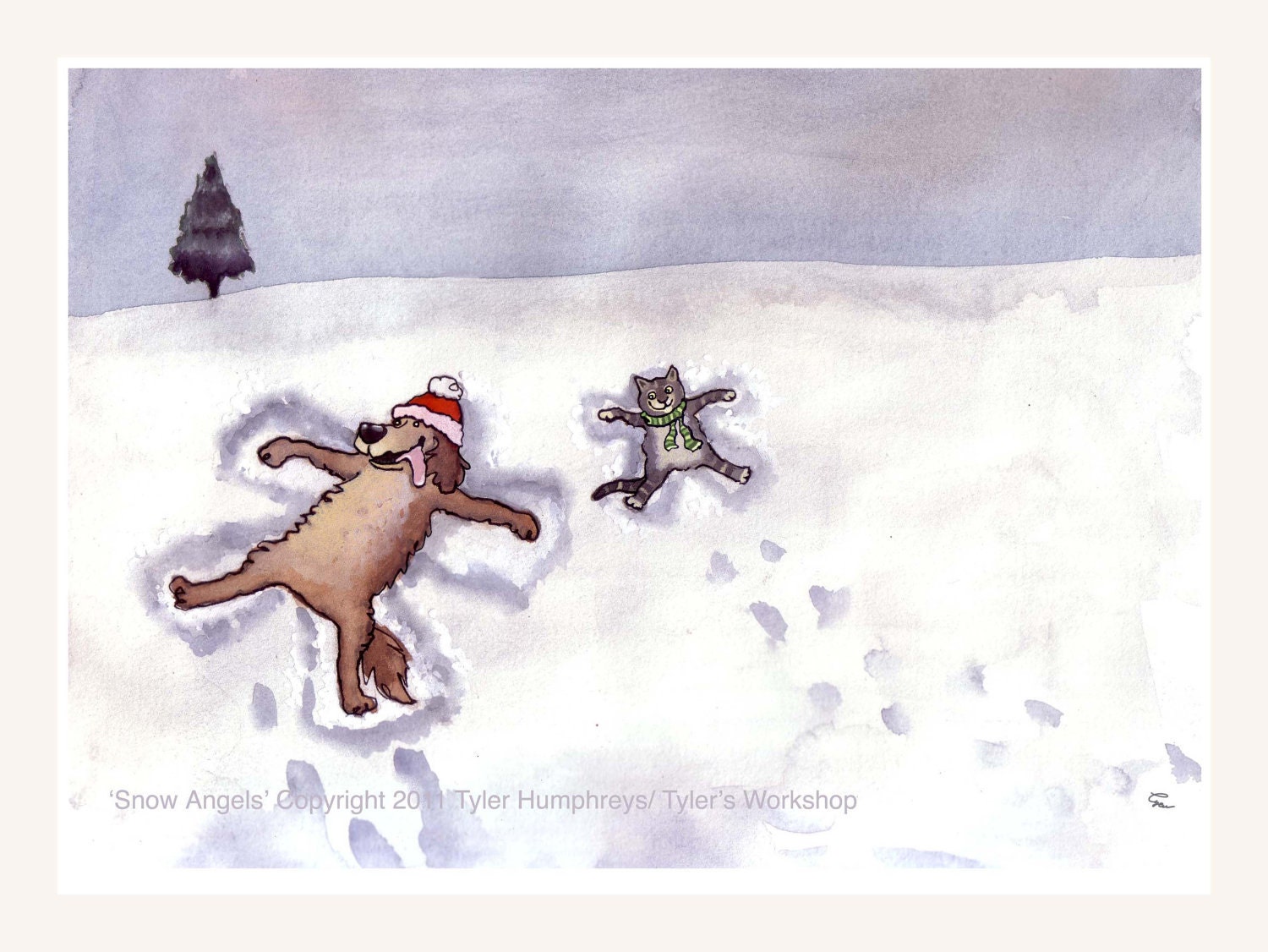 You're definitely want to send out greetings cards. Make sure you sign them with your name, and then all of your cats names as well. If you can add in the glittery paw prints next to each name? so much the better. Your friends and family will love that you've taken the extra time and effort.



Make sure you use only the best in Christmas ornaments. Cat shaped ones are super cool, but if you can find live mice? So much the better. The cats will really enjoy decorating the tree with you!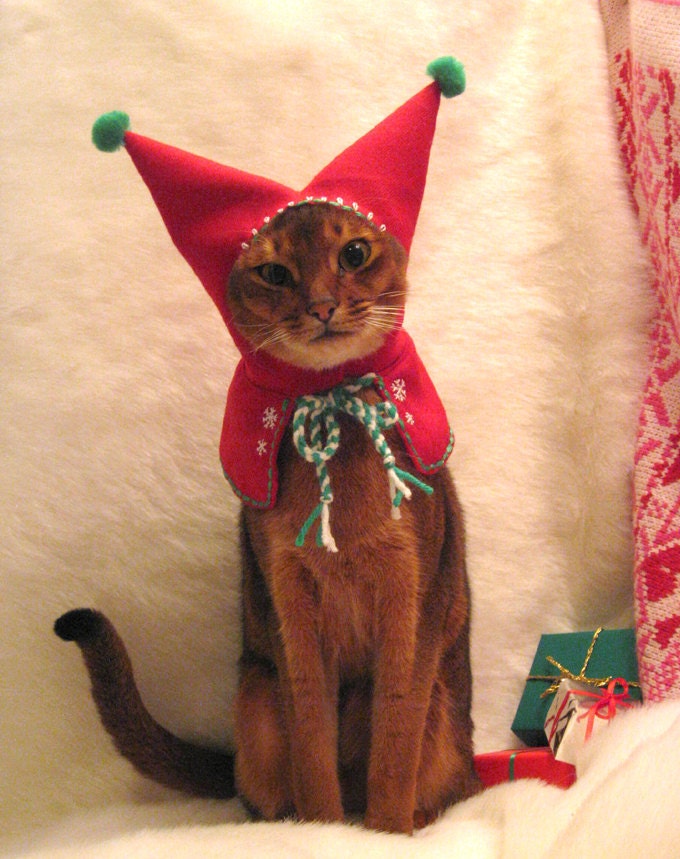 You'll want to make sure you dress your little darlings appropriately for the holidays. Cats LOVE being dressed up in hats and silly pretty outfits! Um..just make sure you're wearing protective gloves yes? This wool embroidered Meowy Christmas Holiday Elf Hood from Etsy includes a free catnip toy too!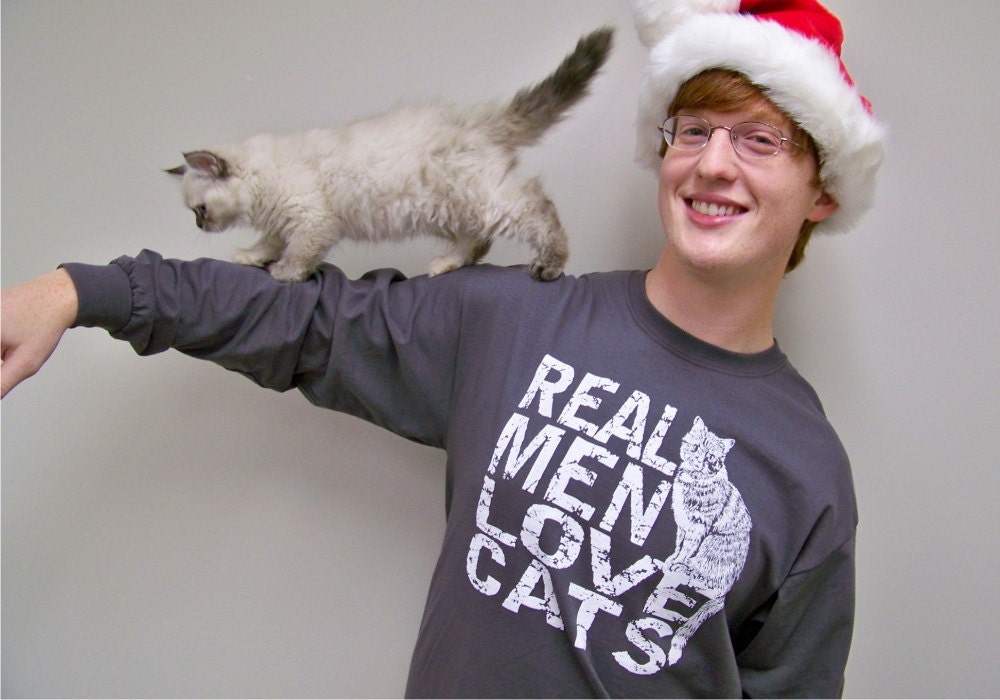 Get your spouse in the Cat Christmas Holiday Spirit! Again from Etsy – what man wouldn't want to wear this? Brighten it up with a nice tie and he could even wear it to WORK!



Finally, wrap up your holidays with treats. Technically, this is a birthday cake, but I think with a little imagination, it can be a wonderful holiday treat! It's available in tuna, mackerel and salmon.


And for the finale, which EVERY SINGLE HOME IN THE WORLD NEEDS: ahem. The Crazy Cat Lady action figure. Not only does she have SIX cats (just like moi) but she's also in slippers, fleece pants, a park and has a somewhat insane look in her eyes.



Not only that, purchasing the Crazy Cat Lady Action Figure helps with the Big Cat Rescue Foundation.
There now! That wraps things up! Except for this little tidbit from my own wrapping excursion this weekend. Oscar playing in the paper, my attempts to cover the claw marks and then — retribution.
=)
ho ho ho
CCL